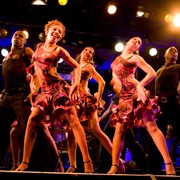 Choreography is the art of designing sequences of movements in which motion, form, or both are specified. Whether for new challenges or objectives, the choreographic workshop is a fun and challenging session to put into practice all the knowledge acquired during previous beginner to advanced dance levels.
Generally spread over 20 weeks, the choreographic workshop offers participants the experience of working as a team to create a salsa group routine. The student will be assigned a partner and will be supervised by the choreography teacher. The ultimate goal of the workshop is to present the routine, once completed, at parties organized by the San Tropez Latin School or other adjoining events. A minimum of 3 performances are guaranteed.
General elements studied (varies per session):
New York preps
Syncopated footwork
Hook semi-circle
Variety of 4 patterns (yoyos, wraps, in & outs, back to back barrel rolls)
Rainbow lift, cambers and small dips, lunges
Jazz lines and postures with poses
Stage presence and projection
Learning a routine requires repeating several times dance sequences to improve performance. We take into account the level of the student. Always guided by his teacher, the student will receive several tips and corrections about the different techniques used for the success of the routine. This will provide good control of movements and a healthy dose of self-confidence.