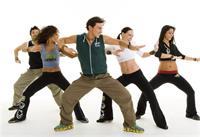 Reggaeton dance is Spicy,. Steamy, and. Sexy. Originally from the streets of Puerto Rico, this hot Latin dance music with roots in hip-hop, salsa and reggae requires a spicy mix of sensual moves and supreme confidence. You've got what it takes to dance reggaeton--you just have to let it loose.. Classes every Thursday.
Reggaeton's sound derives from the Reggae en Español from Panama. The genre was birthed in Panama; then, modified and popularized by Puerto Rico. Most of its popular artists are from Puerto Rico. After its mainstream exposure in 2004, it spread to North American, European, Asian and African audiences.
Reggaeton blends musical influences of Jamaican dancehall and Trinidadian soca with those of Latin America, such as salsa, bomba, Latin American hip hop, and electronica. Vocals include rapping and singing, typically in Spanish. Lyrics tend to be derived from hip hop.
While it takes influences from hip hop and Jamaican dancehall, reggaeton is not precisely the Hispanic or Latin American version of either of these genres; reggaeton has its own specific beat and rhythm, whereas Latin hip hop is simply hip hop recorded by artists of Latino descent.
This new genre was simply called "underground". It contained very explicit lyrics about drugs, violence, poverty, friendship, love, and sex. These common themes, which in many cases depict the troubles of an inner-city life, can still be found in reggaeton today. "Underground" music was recorded in "marquesinas" (or Puerto Rican open garages) and distributed in the streets via cassettes. These marquesinas were crucial to the development of Puerto Rico's underground scene due to the state's "fear of losing the ability to manipulate 'taste'". Despite being recorded in the projects of Puerto Rico, the majority of the recordings made in marquesinas were of high quality, which helped in increasing their popularity to the Puerto Rican youths of not only the projects but those of the middle and upper class as well. The availability and quality of these cassettes led to the genre's popularity, crossing over socio-economic barriers in the Puerto Rican music scene.
In May 2006 Don Omar's album, King of Kings, became the highest ranking reggaeton LP to date in the US charts, with its debut at number 1 on the Top Latin Albums chart and its peak at number 7 on the Billboard's 200 albums. It also gained the number 1 spot on the Billboard Latin Rhythm Radio Chart with the single "Angelito." Don Omar was also able to beat the in-store appearance sales record at Downtown Disney's Virgin music store previously set by pop star Britney Spears, further demonstrating reggaeton's rise to popularity in the United States. 2007 also saw new records set with Daddy Yankee's June release of El Cartel III: The Big Boss setting a new record for highest first week selling reggaeton album with 88,000 copies sold. It peaked at number 1 on both the Top Latin Albums and Top Rap Albums charts being the first reggaeton album to peak at number 1 on the rap charts. It also peaked at number 9 on the Billboard 200 making it the second highest ranking reggaeton album on the mainstream chart. The third highest ranking reggaeton album came later that year in the form of Wisin & Yandel's album Wisin vs. Yandel: Los Extraterrestres debuting at number 14 on the Billboard 200 and number 1 on the Top Latin Albums chart. In 2008 a new 3rd highest ranking album came with the release of Daddy Yankee soundtrack to his movie of the same name Talento de Barrio debuting at number 13 on the Billboard 200 knocking Wisin vs. Yandel: Los Extraterrestres down a spot. It also peaked at number 1 on the Top Latin Albums chart, number 3 on Billboard's Top Soundtracks and number 6 on the Top Rap Albums chart. 2009 saw the release of Wisin & Yandel's album La Revolucion debuting at number 7 on the Billboard Hot 100 making it equal 1st as the highest charting reggaeton album along with King of Kings. It also debuted at number 1 on the Top Latin Albums and number 3 on the Top Rap Albums, demonstrating a crossover appeal for reggaeton in mainstream "English-speaking" markets.
Excerpt from Wikipedia